With all the recent interest in Readers Cars, I thought it was time to update you all on my imp. I guess it's quite a well known car now (?) but I never seem to get to many events or round to posting much on this forum so here goes……..
It's not been out of the garage since October last year as I decided I was going to get round to fitting the fuel injection stuff I'd been slowly acquiring. I've been fairly quiet on this as I like to see if things work before I open my mouth and I like the element of surprise - turning up to our Area centre running on EFI last night was one of those moments.
Winding the clock back 8 months - i bought some pressed 38mm bends from custom chrome and a manifold flange form Eric (pimpdriver) to make up the inlet manifold. The bends were rubbish for making an exhaust but ideal for what I wanted; they were severely crushed which actually saved me some work creating the tapered inlet stubs, though I still had to cut a wedge out of them and weld it up to create the taper from 38mm down to 25mm followed by a lot of fettling - it took me about a month to get the manifold sorted. I hadn't got the bike inlet coupling rubbers for the throttle bodies so I made sure the inlet stubs lined up perfectly with the Suzuki GSXR 600 throttle bodies. I used some silicone tubing and slim hose clips to connect it all together.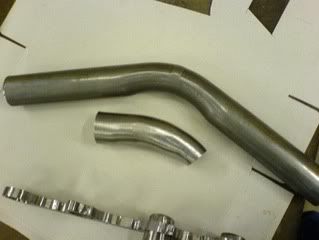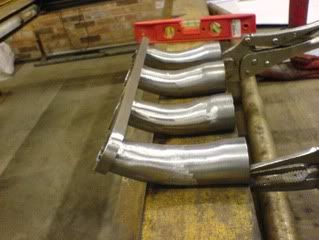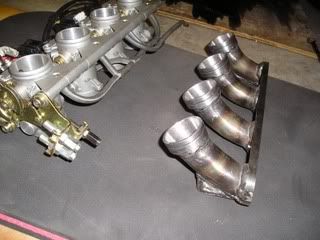 The crank pulley and trigger wheel had been done by several people on this forum previously, but as i was just getting it running at this point i didn't want the extra expense of an alloy pulley, i bought a trigger wheel from trigger-wheels.com and machined it to suit the imp pulley. I made a bracket for the sensor from a bit of stainless sheet and blanked off the old distributor aperture. The timing was finalized at 90deg BTDC and the trigger wheel welded in place.
The Fuel tank now houses a surge pot and Suzuki GSXR injection pump. The surge pot is a 3" diameter tube which is the full height of the tank, it has a few small holes in the bottom to let the fuel into the pot but hopefully not out when cornering. The tube and flange to suit the pump were welded together and then into a DRY tank - it had been empty and vented for over 4 years that I knew about so it wouldn't go bang!
The tank was leak tested with air pressure at about 1.5psi above atmospheric, ( don't go mad here as it started ballooning on the top at one stage!) with the air pressure in the tank i applied soapy water to all my welds and looked for air bubbling, after welding up any leaks i had it blasted and powdercoated. It took me 4 hours and about 5 gallons of paraffin/petrol to clean the tank out of blasting media afterwards. A tip here put old nuts and bolts in to loosen any flaky internal rust/paint then keep flush through with fuel, strain the fuel with paper towel in a funnel when you drain it to see how much debris comes out - also you can then re-use the fuel for rinsing. Keep doing this until you are happy that tank is clean, injection pumps don't like muck and there's no chance of putting a filter up-stream, they won't last long with a mucky supply.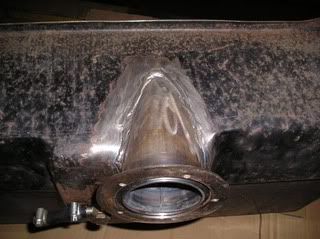 I'm running a single high pressure fuel line (as per the bike) though the car has a return line installed just in-case it doesn't work, i'll let you know if this set-up proves reliable, with the miles I've done so far it would seem ideal for a road car but I've not done any energetic driving to see how it fares with moderate forces.
That's most of the fabrication issues sorted so it was 'just' a case of fitting it all back up, another process which has taken about 3 months. I used a new tandem bike brake for the throttle along with a v-brake noodle to link up with the mechanism on the GSXR bodies
Air filter was bought at the stoneleigh kit-car show and is apparently what TTS use in bike engine'd cars, anyway it is just big enough though i did have to make up a couple of brackets to hold it on as the 'bodies don't have any spare threads. Like Si Trickett - i might look at a cold air feed one day, but lots of other jobs are higher on the priority first.
I made a new wiring loom for the injection, i grouped all the sensitive wiring and have run this separately to the other engine bay wiring, the injector and coil wires are in the main loom along with starter, alternator wiring etc.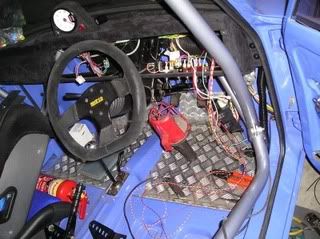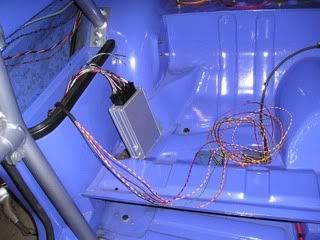 I used a 2nd generation ford coil pack which is nice and small (and cost me a tenner of the bay) along with ford plug leads which i chopped down for a start, though I've just got a set of new ones from magnecor which are superb.
I decided to go for an Emerald ECU as I've never heard a bad thing said about them, for the money they have a lot of features and despite making all the injection stuff micro-electronics is not my strong point; i didn't fancy another 2 weeks soldering up a meggasquirt unit. I wired up the ECU in about 4 evenings and finally started it up last Sunday, a big thanks to help from Si Trickett with getting my PC to talk to the ECU, Si also sent me some maps - which with a bit of scaling of the injection map to compensate for different injector flow, i have got it drivable, though it's quite rich on fuelling.
The greatest thing I've noticed instantly is how steady the idle is and when you approach a junction it keeps running! - I was always chasing vacuum leaks from the manifold gasket on my previous 28/36 (necessitating heal and toe at junctions to keep it running), with the Injection it's much improved, the idle speed hardly falters when depressing the clutch either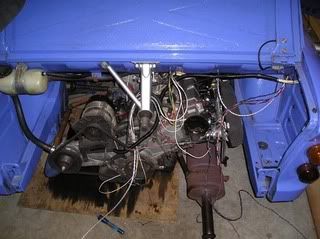 I did a bit mapping on Monday on the way home from work! but the inactivity of the imp over the last 8 months had taken it's toll, one of the donuts cried enough - luckily i spotted it before catastrophic failure. I planned to go to my area meeting on Thursday (last night) un-announced running on the EFI so I got on the phone to Ben Boult for some new ones which i picked up on Wednesday evening. The infamous James Hill (blown imp) dropped by last night as he's moved just down the road, I've not met James before and within minutes of arriving he was tasked with passing spanners as i changed the donuts before we went to the Leicester imp meeting.
There's still lots of tidying up to do and I'll try and put a few updates on as things progress.
As always a big thanks to those of you who've helped out; particularly the regulars from Leicester Area centre and Si Trickett.
Hope I've not ranted on and bored too many people on a Friday afternoon, but though you'd like an update
Cheers
Brian