Just thought it was about time we put some pictures of our Imp project on the site. So this is the first as a trial picture load.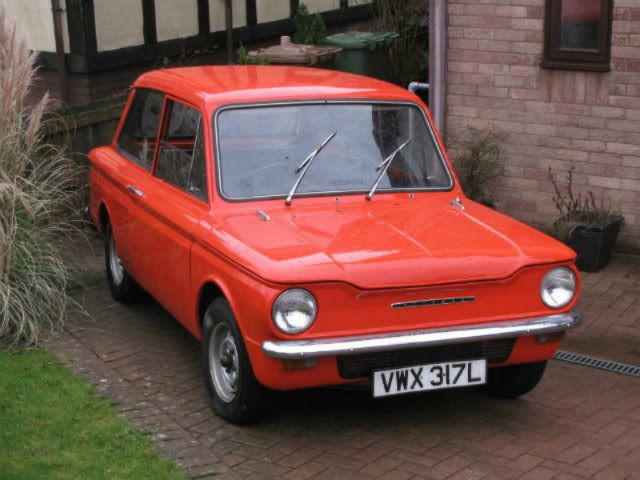 We bought her in Jan 2011. Then previous owner described her as just needing a few bits and pieces and carpet to complete as she'd just been resprayed. When we viewed her we could see that she needed 4 wheel arches and a bonnet as the job had been botched. The water pump bearing sounded knackered (and proved to be) and the battery was dead. However the engine ran well and the seller said a previous owner had done some rebuilding. We decided to buy her and run her for a while, respraying her when the rust came back.
She looks much better in this photo than up close as the rear arches were full of fibreglass. The true condition will be revealed in later photos.
Originally we planned to get her through the MOT by refurbing the brakes, replacing battery, water pump and fitting an ignition upgrade. The local garage confirmed that she needed no welding to pass the MOT. At this point we had no garage and progress was slow over the first 6 months, although we did the brakes, ignition and battery.
Meanwhile Lesley stripped the interior and we made made new door cards, Fiesta XR2 seats were sourced and she recovered all of the seats and door cards in new cream vinyl.