OK, I haven't done the Mod Pods yet but hopefully will have them done before the 2012 National...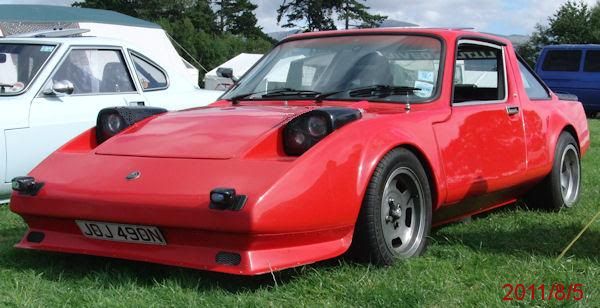 Realised recently that I have a shed load of info scattered all over the forum in other threads about the development of JOJ 490N so it seems sensible to put it all in one place...might take a while to retrieve the info and put it in some sort of order mind.
So I'll start with this weekends suspension development and add stuff as and when.
Clan std spring rates:
Front: 65 lb/in(COC replacements 75); Free length: about 3 foot long!
Rear: 260 lb/in; free length: 11.5 inches
Ride height: 5.5 inches
BTW I have applied a spring rate calculator and the std rears ARE 260 and NOT 210 lbin as stated in one Clan Owners Club mag way back.
JOJAgON (past 3 or 4 years upto this weekend):
Front: 100 Ib/in; Free length: 10.5 inches
Rear: Std Imp; Free length: 9.3 inches (fitted with 3/4" spacer in spring pan).
Ride height: 5 inches
Now then, I was under the impression that the
std Imp rears
were rated @
490
lb/in but once I got them off and worked out that the "active coil count" = 5... my spring calculator says
420
lb/in, which is a bit frustrating 'cos i ordered softer new rears based on the higher rating (BTW. the active spring count for 490 lb/in would be 4.27).
The stability of the rear of the Clan is much better with std imp springs but the ride quality on back roads is pants! One of the nice aspects of the std Clan soft springing is the ride quality but there is far too much roll for my liking hence stiffening the rear. So looking for a better ride quality/ handling compromise I followed Richard Ceens (Clan Rally man) advice and looked to fit rears rated around
350
lb/in....he used TR2/6
rears
(11.4 inch long ones to get a raised 6.75 inch ride height).
(I don't know how well these fitted as the TR/2/6 rears are 3.75 inch OD, not 4 inch as per Clan /Imp rear?)

I don't want the ride height that high so i looked for shorter versions. Std TR/2/6
fronts
are 4 in OD with 0.5 inch wire same as the std Imp but rated @ 310 lb/in and are 11.5 inches long (too long) so I ended up with uprated
390
lb/in TR2/6 fronts that have a free length of 9.25 inches (same as Imp rears). I got these from RACETORATIONS in lincolnshire ...very helpful.
I fitted the new TR2/6 fronts to the rear without spacers:
Front: 100 Ib/in; Free length: 10.5 inches (on adj platform Protechs)
Rear: 390 lb/in ; Free length: 9.25 inches (no spacer in spring pan).
Ride height:

4.5

inches might be a problem over speed bumps
I also fitted a pair of SHORT 8 in bodied Protechs to the rear because the GAZ rears were; a) bodies too long so hitting the bump stops...and b) the valves where "knocking" prematurely (not that old
)
Have only done a 4 mile back-road test so far but the rate reduction to 390 lb/in does give a better ride. So despite me getting the std Imp rate wrong (I thought was making a 100 lb reduction not 30 lb as it turns out!) the reduction is worth while....and that bl***y awful knocking has GONE...disappointed with GAZ for that 'cos otherwise the shocks are still useable!
Please can someone confirm or otherwise the std Imp spring rate in lb/in ..'cos the ride on the new 390 lb/in TR2/6 springs seem to feel softer than the 30 lb reduction as I have calculated it....maybe the very old Imp springs had work-hardened
More when I get time..