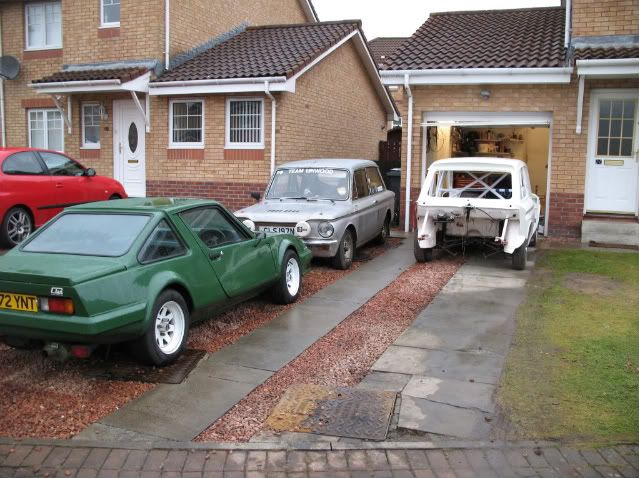 With Imp Ecosse coming up fast I need to get one of the cars ready and as the Clan needed the least work it was chosen.
I bought the Green Clan last Sept because I prefered the look over the original Clan I had bought a few months earlier,
it also had the added benefit of a 998 with big valve head R17 and twin 40's and a helical close ratio box and had only done
3000 miles since being finished and registered in 1993.
When I got the car I knew there was an issue with overheating which turned out was simply a chocked radiator. The other issues
that I needed to sort was the lack of a heater, sort out the carbs and remount the seat.
The car was not much fun to drive due to the poor tractabilty particularly the bogging down and stalling when driving of and hence the reason it
had lain un touched since sorting the radiator apart from twice to give it a run.
The car came with a complete heating system from a Mk1 Fiesta as the dash also comes from this vehicle. However this was too large
to fit so ordered
http://www.cbsonline.co.uk/43kw-car-hea ... 4489-p.asp
along with some ducting etc. Very compact unit.
Next turned to the seats -as they were bolted directly to the unstrengthen floor this needed changing. The floor seems thicker than an
original Clan but still not strong enough. My solution was 2 50mm x 3mm flat bars bolted to the inner sill and transmission tunnel and the
floor and then fibre classed in. Very much stiffer.
Then the fun part
sort the webers. The original jettings seemed rather rich 50 accelerator pump jets, 138 Main etc, large idle jets hence the reason
for the bogging down. Rejetted and instantly drivability was much improved but idle poor played around a bit, rebalanced them, sorted at problem with the linkage and it idles at 500 while warming up.
Test drive 1. Half way through seems to lack power needs lots of throttle so stop to check it, modified pedal linkage had seperated where it had been joined and welded.
Only 3 tools with me and joys they were what I needed
Drove home operating the accelerator by hand.
Linkage welded up properly now.
Test drive 2 The car is a joy, beautiful clean pick up, loads of power, also seems very torquey too but that maybe a result of the close ratio since I'm
use to standard ratios. Its frightenly quick and some what tail happy in the wet.
HAPPY DAYS
Scott