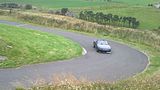 I'm hoping this link will work as doing this from my phone.
Spent an hour or so at Forrestburn hillclimb open day today watching Scott fire his Irish Clan over the course a few times along with fellow Imper Keith in his new Westfield.
Thanks to Keith for inviting me to sit alongside in his Westfield for a few runs. Excellent stuff.
Excuse the MX-5 at the beginning.
Cheers
Col